Desperate for a Hard Water Stain Remover that Works?
Prevent & Remove Rust Stains Like a Pro!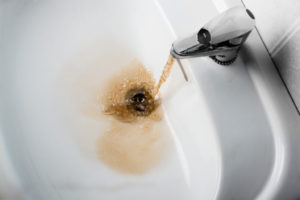 If you're a homeowner with hard water, well water or water with high iron content, few things are worse than rust stains in your sink, bath tub and toilet, or on your sidewalk, driveway and siding. Although harmless, rust stains are unsightly and embarrassing, and, if you have well water, they probably won't go away.
Rust stains are the result of dissolved iron in your household water. It oxidizes and causes stubborn, reddish stains that can be a nightmare to remove. There's no need to despair, though. Some simple measures – and proven products – can act as amazing hard water stain removers to keep rust stains at bay and your home looking sparkling clean.
Prevention is key.
As with anything, the best recourse for rust stains is prevention. Simple acts like wiping down the bathtub and sinks after use will help prevent the accumulation of rust stains.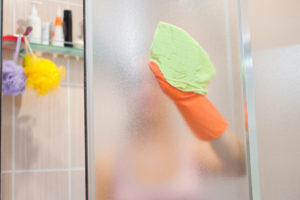 Avoid using household cleaners that contain bleach, since bleach chemically reacts with iron in the water and makes rust stains worse.
Installing a water softener can make a difference as well. A water softener is designed to dissolve calcium, iron, magnesium and other minerals from hard water; be sure to select a water softener salt that is specifically formulated to remove iron from the water.
The best treatment.
Home remedies using vinegar, lemon juice, oxalic acid and pumice stones have proven effective in removing rust stains, but they require a lot of effort, time and vigorous scrubbing. Among the most effective commercially available products for combatting rust stains is the Iron OUT family of products – each of which serves as a highly effective hard water stain remover on many surfaces.
"I would have taken a before and after photo if had I known just how fantastic Iron OUT really is!" said happy customer Meghann C. after her experience with Iron OUT. "I moved into a house about a year ago that has well water. I have never had to deal with anything like this before, and no matter what we did to treat our water system, the rust and iron build-up returned. It was instant gratification once I put Iron OUT on the bottom of my tub, and I hadn't even scrubbed or rinsed it yet!"
Iron OUT promises equally satisfying results for your outdoor rust problems as well – a truth homeowner Eileen Dueck can attest to. "We were away for a month and had several people taking care of our yard," she said. "At some point, someone left the hose on outside and the dripping tap it was attached to left a massive stain on the sidewalk. Our daughter, absolutely horrified, sent a picture."
"I wasn't worried," Eileen continued. "I had Iron OUT in my cupboard and KNEW how great it worked. When we got home, I went out to tackle the problem – wetting the area, sprinkling the stain with Iron OUT, rubbing it in a bit and leaving it to do the dirty work. Voila! Even knowing how great this product is, I was still impressed with the results. I remain a believer in Iron OUT!"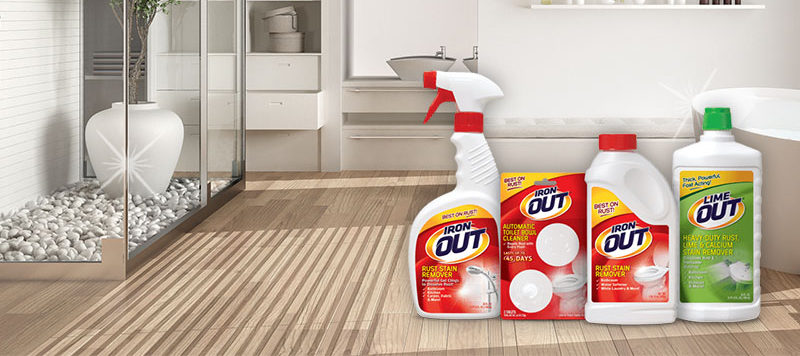 Available in powder, spray, toilet cleaner and outdoor formulas, Iron OUT rinses away tough rust stains without scrubbing. Each Iron OUT product packs a punch as a hard water stain remover:
Even with hard, iron-rich water, it's easy to remove rust stains and keep your home sparkling clean with Iron OUT products!