Cleaning Sinks, Tubs, and More with Iron Out
Rust makes some of the most ubiquitous stains that you'll find in and around your home. Almost anywhere that there's water coming through a pipe, there can be rust stains. Unfortunately, rust stains are also some of the hardest-to-remove stains you'll find. Suffice to say, that's a bad combination. That's why we made the Iron Out line of products. These household cleaning solutions make removing stains easy and safe. Whether your problem area is the toilet, the tub, outdoors, or all of the above — we've got you covered.
Today, we're going to discuss some of the most common problem areas for rust and hard water stains and how Iron Out can be the solution.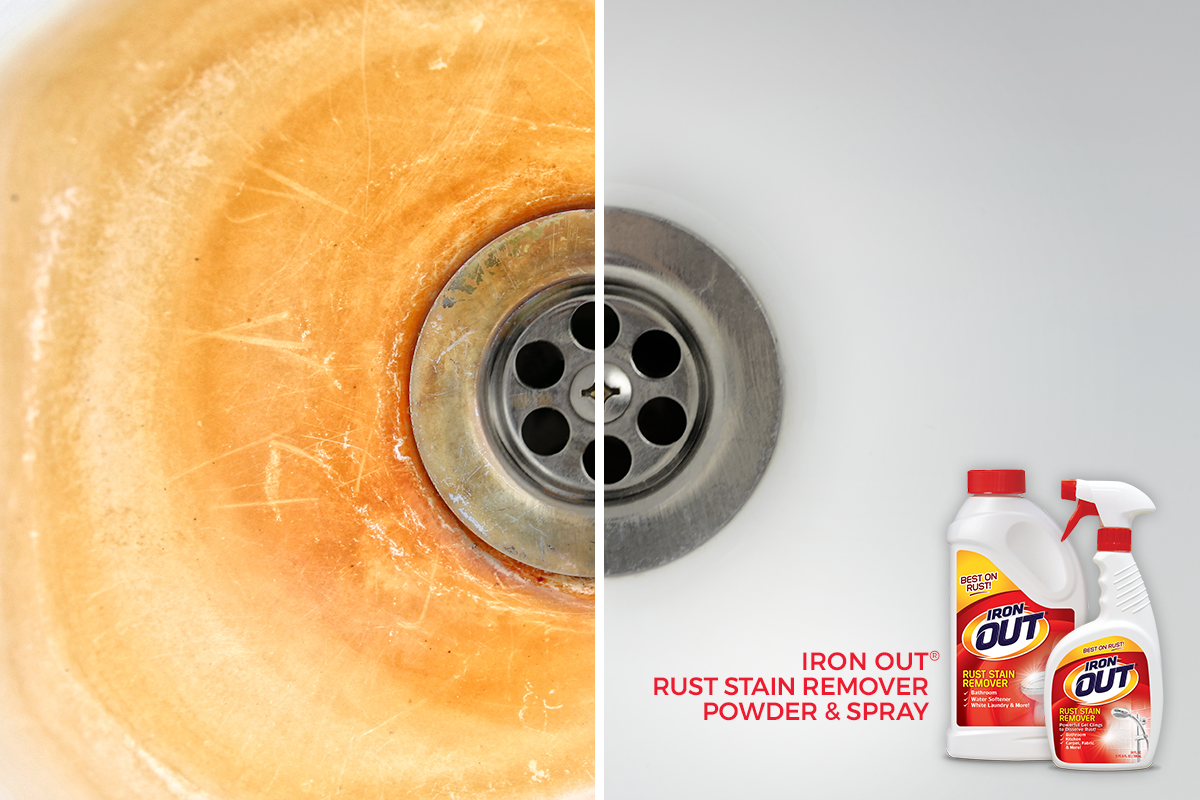 Where Do Rust Stains Come From?
Rust comes from oxidized iron. As the iron is exposed to oxygen, it turns red and becomes rust. That might leave you wondering where rust stains come from — after all, they appear in your bathtub and toilet, but neither of these is made of iron. The truth is that trace amounts of iron are found in tap water. This generally isn't harmful, but the stains left behind are stubborn and unsightly.
As residual tap water sits on your tub, sink, or toilet, it begins to evaporate. The water leaves the iron behind, which becomes oxidized and turns to unsightly, reddish-brown rust stains. Hard water stains are also left by other mineral deposits in tap water.
These stains can be very difficult to remove, and most household cleaners simply aren't up to the job. At the same time, you never want to use any harmful or dangerous industrial-strength cleaning solutions in the home. So what do you do? Simply reach for the Iron Out range of solutions.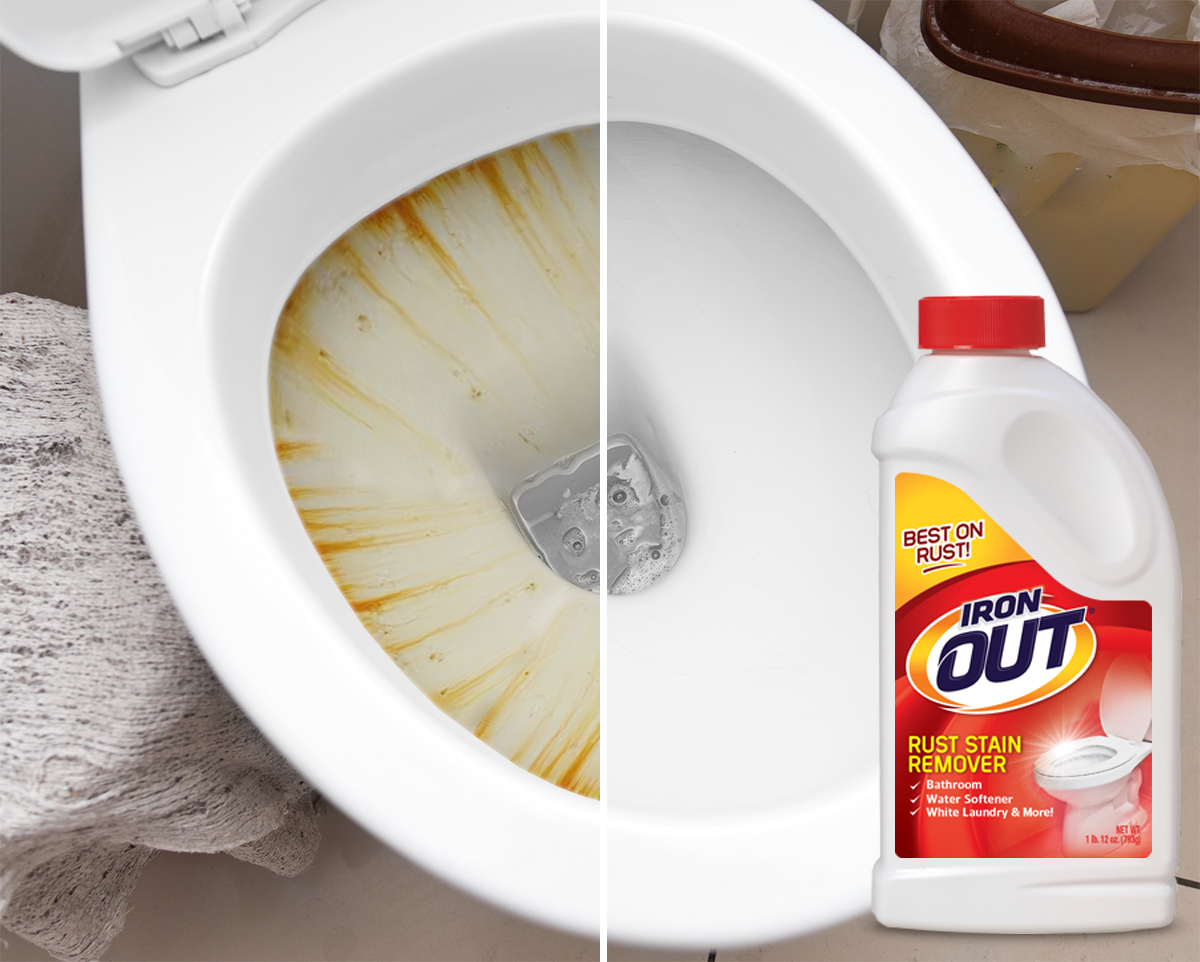 Toilet Cleaning with Iron Out
One of our most popular options is Iron Out Automatic Toilet Bowl Cleaner. This concentrated, long-lasting product will clean rust away and prevent new stains from forming for up to 45 days. Unlike some harsh chemical cleaners, Iron Out Toilet Cleaner won't harm toilets, plumbing, or septic systems. All you need to do is drop a tablet in the tank of your toilet, and let Iron Out do the work. No more scrubbing or cleaning your toilet with old, dirty brushes. Instead, let Iron Out do the cleaning! The toilet is one of the most common places for rust stains to build up — it's also one of the most unpleasant to clean. Thankfully, Iron Out Automatic Toilet Cleaner will prevent any of those pesky rust stains.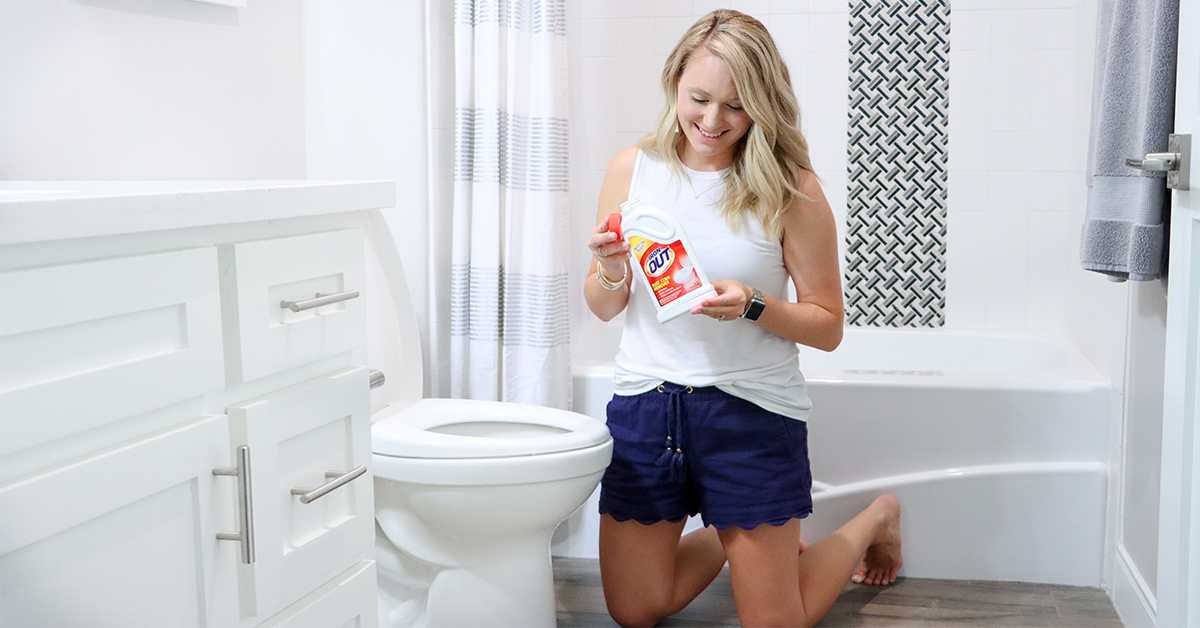 Hard-to-Reach Places
Of course, the toilet isn't the only place in your home that is affected by rust stains. Hard-to-reach places like tall shower walls are the ideal place for rust stains to form. That's why we've made Iron Out available in a convenient spray bottle. This formulation of our #1 rust-removing product is made to cling tightly to stains, dissolving them on contact. It's extremely effective in removing rust stains and is much safer than traditional rust removing cleaners. We suggest Iron Out spray for surfaces like showers, bathtubs, tile, and more. Simply spray Iron Out on a stain, let it sit for a few moments, and wipe away with a damp towel or cloth.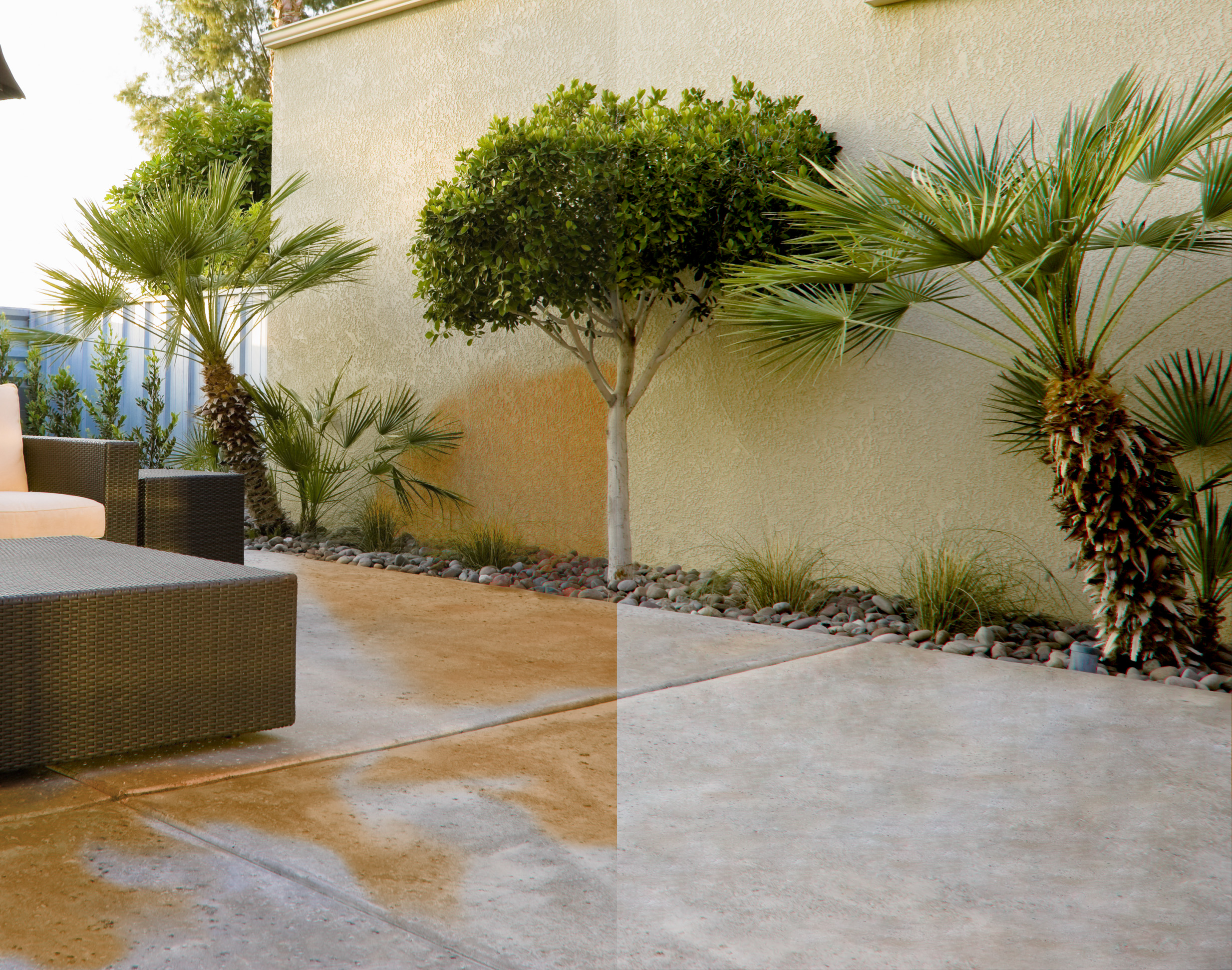 Outdoor Stains
Rust stains don't just happen indoors, as you probably know from experience. These pesky stains often appear on exterior walls, concrete sidewalks, driveways, fences, outdoor equipment, and many other outdoor surfaces. Because of their exposure to the elements, outdoor rust stains might need a little extra fighting power to remove them for good. That's why we created Iron Out Outdoor Stain Remover. This professional-grade outdoor stain remover is tough enough to work quickly and efficiently on outdoor surfaces, but it's also completely plant-safe.
This easy-to-use formula can be easily applied with a tank-sprayer, roller, or a cloth. Simply cover the stain in Iron Out, let the stain disappear, and rinse away the Iron Out with fresh water.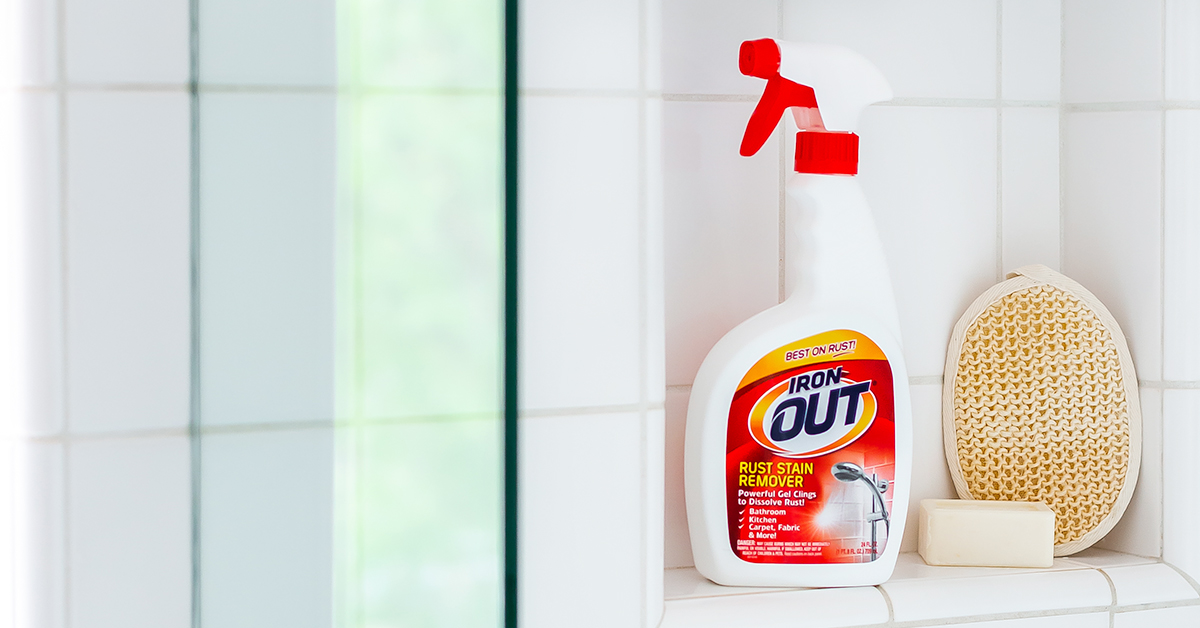 Lime and Calcium Stains
Rust stains aren't the only thing left behind by hard water. Limescale and calcium are also common types of buildup that can occur wherever water is found in the home. These minerals aren't particularly harmful, but they cause difficult and unsightly stains. But with Lime Out, those stains are virtually a thing of the past. Lime Out is specially developed to clean hard water stains around the home. Lime Out is so versatile, in fact, that it can even be used in the washing machine.
Like our other rust stain removers, Lime Out does the work for you. Simply spray the Lime Out on the stain, let it dissolve the hard water, calcium, or limescale…and rinse! Yep — it's that easy.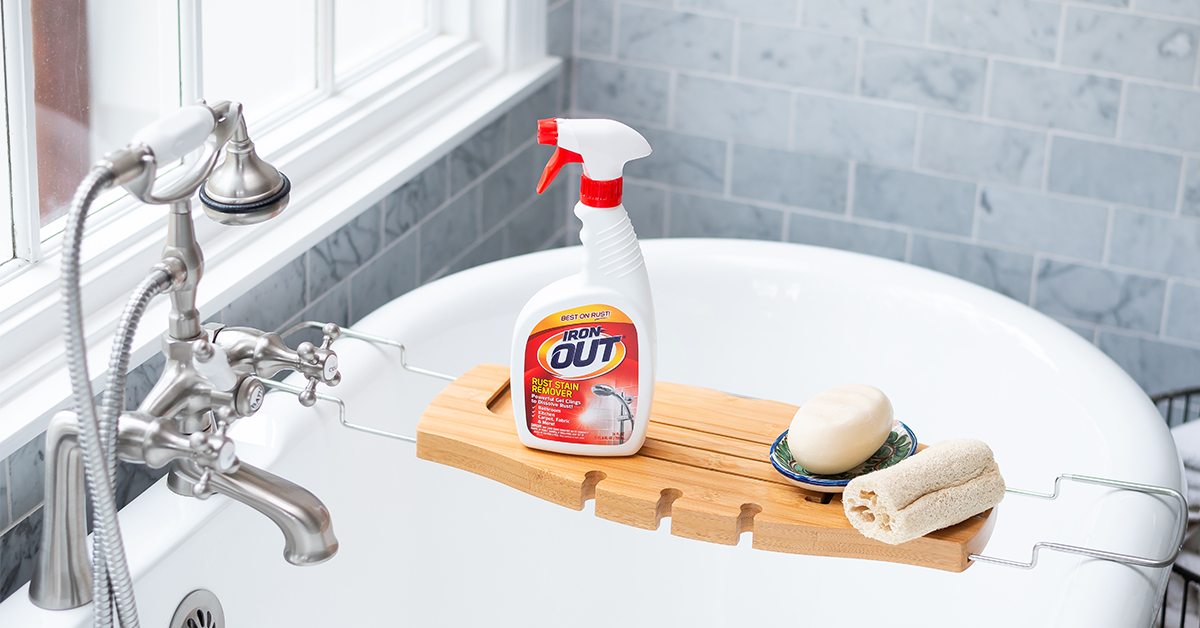 Family Safe and Eco-Safe
At Summit Brands, we know the safety of your family comes first. That's why all of our products are 100% safe to use in the home. We don't include dangerous, industrial chemicals in any of our cleaning solutions, so you don't have to sacrifice peace of mind for a clean home. Our outdoor cleaning solutions are even 100% safe for plants.
We also take sustainability seriously. All of our products are made with the planet (and its future generations) in mind. We are proud participants in both the Safer Choice and Design for the Environment EPA programs. From product development to final production, Summit Brands never forgets the safety of our planet.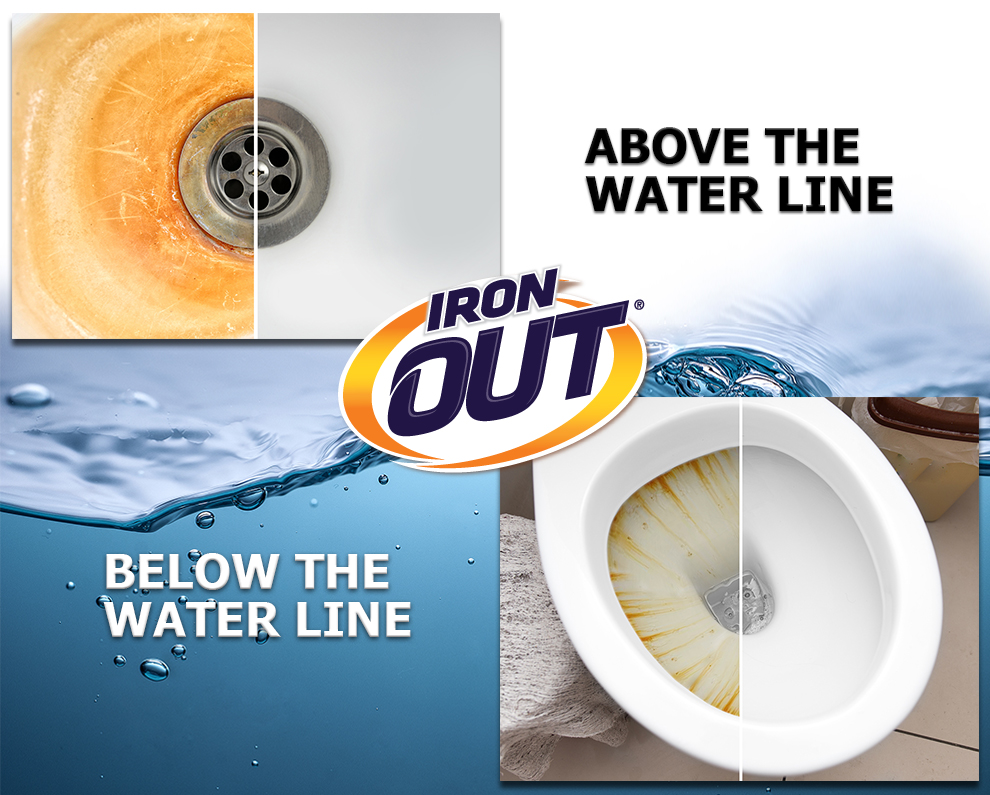 Get Rust Out — With Iron Out.
Summit Brands is proud to offer the Iron Out family of products as an industry-leading solution for removing difficult rust stains around the household. Our line of solutions includes options for every part of the home — even outdoors. Whether you're dealing with rust, limescale, or hard water stains, Iron Out is the ideal solution to easily and safely keep a clean home.